Day 8 of the infuriatingly long
25 days
of quit procrastinating and effing blog about it
:
Allow me to introduce you to the best thing I've made in YEARS (not really, but they are delicious and they don't loose their minds every time I put them down for 4 seconds to go to the bathroom, so... they're certainly in contention- Do you HEAR that, son!?! ...ahem, where was I?) Aaaaahhhh, yes:
Shortbread Stars with Cinnamon Icing:
go now. and make them.
1 cup softened butter
1/3 cup powdered sugar
1 1/2 cups all purpose flour
pinch of salt
Preheat oven to 375. Cream together butter and sugar. Add salt and slowly add flour to combine. Turn dough out onto floured parchment, sprinkle with additional flour and top with another sheet of parchment. Roll to 1/4 to 1/2 inch thickness. Pop it in the freezer for a few minutes to stiffen the butter. Using a small-ish cookie cutter dipped in flour, quickly cut shapes and arrange on cookie sheet. Return uncut dough to freezer until ready to cut and bake. Bake 7-9 minutes or until the edges start to brown
While the cookies cool make a
Cinnamon Icing
Melt 1/2 cup of butter in a micowave safe dish. Add 1/4 cup heavy cream, 2 cups of powdered sugar, and 1/2 teaspoon cinnamon extract-beat until creamy. Ice cool cookies with warm-ish icing- and try your hardest not to eat EVERY.SINGLE.LAST.ONE!
This Post was inspired by Evolving Mommy and her virtual Cookie Exchange.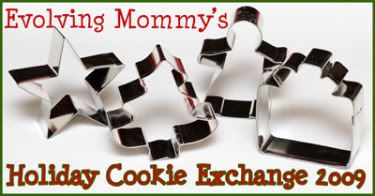 These Cookies were inspired by Tongue-N-Cheeky and her INSANE infatuation with cinnamon extract.
This video was inspired by my dishwasher- who is endlessly grateful for a night off- thanks to the boy.